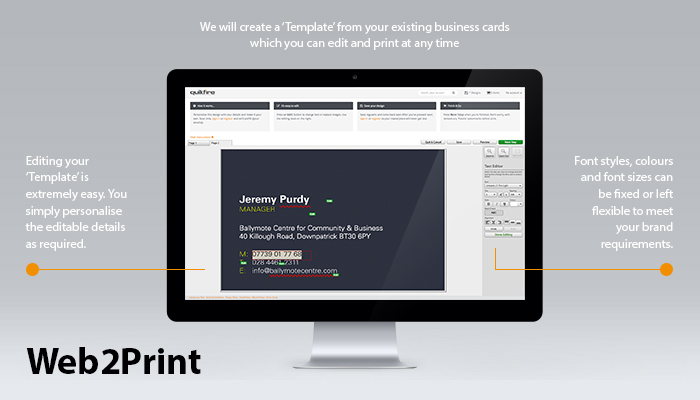 Web 2 Print for SME's is about making client specific templates, which can be edited by our clients online.  At a simplistic level, web-2-print could involve clients making changes to their business cards online for new members of staff – from the office, at home, or anywhere they have an internet connection.
Our templates don't stop at business cards, they can be used for flyers, booklets or stationery.
Ordering business cards should be easy
Let's face it, ordering business cards is necessary but can incur too much management time. The conventional ways of ordering business cards present different problems, with time and money inevitably being wasted.
If you are a lawyer, accountant, surveyor or work in the recruitment or property sales industry (or any large firm with 10+ staff) we would love to hear from you – Let us save time and money on your printing!

Or maybe you are a multi site business or own a franchise network. To facilitate larger clients we also offer the facility for branded client portals. That means you can sign into a portal that is branded with your logo and corporate colours. Nice!
"The smarter way to order business cards with your very own online business card ordering system"

Simply Faster, Cheaper and more Efficient.
Whether your company has 10 or 10,000 employees we can offer you a more streamlined, intelligent business card ordering system that provides on-demand business cards at low cost.
Our Corporate Business Card System helps maintain your corporate branding whilst eliminating job-by-job artwork charges incurred through name and detail changes.
Orders are placed when you need them through your own custom built online ordering portal. Our quick and simple online system gives you access to cheaper business card print prices which can be ordered from anywhere at anytime.
Want to know more? or see a demonstration then please contact us today…
Email us on info@quikfire.co.uk